Well, I needed one! A friend asked me to design a card that her friends could make where they could choose from a variety of sentiments. We were already making a birthday card but she wanted to have them make a thank you, sympathy or thinking of you card as well, but we won't have time to make too many cards.  So I came up with this, after choosing pieces from different cards I saw on Pinterest.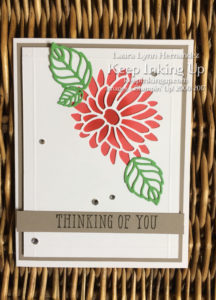 I will have a variety of sentiments that can be placed on the strip of card stock, and will likely need to have a few sizes of strips available to accommodate those sentiments.
I think this bundle is so versatile! But I will miss these retiring In Colors, Watermelon Wonder and Tip Top Taupe 🙁 .  We will have Cucumber Crush for another year, thank goodness.  But if you like Watermelon Wonder as much as I do, you need to order those consumables as soon as possible before they sell out! I placed an order last week 🙂 .